For IMMEDIATE opportunities to complete Community Service hours,
go to the bottom of this page under WAREHOUSE VOLUNTEERS
THE SALVATION ARMY VOLUNTEERS
THE ARMY BEHIND THE ARMY

THE PROCESS
The process which includes submitting your application, background check and then finally attending a Volunteer Orienation can take anywhere from 3 days to several weeks, depending on various factors. One deciding factor is if you have lived out of state - it will take longer for the background check to be completed. Since a 3rd party handles this for us, we cannot speed up the process. Often, by the time you attend a Volunteer Orientation, your backgound check has come back.
DOWNLOAD our Why Volunteer flyer by clicking here.
1. Complete & Return the Forms
If you are working with a Transition to Work Agency, they will provide these forms for you and forward them to us. Otherwise, please:
Complete the forms at one of our Family Stores (click here for Store Hours and Addresses) then give them to the manager or

​Bring your completed forms to our Downtown Admin Offices 940 14th Street, San Diego, CA 92101 Monday - Friday between 7:30 am to 3:30 pm

PRINT the forms, as they are not programed to type in them (we are working on that!)
Return completed forms to the Store where you received them OR
Email them to the Community Relations Office (see contact info below) OR
Fax them back to the Community Relations Office (see contact info below)
2. Attend a Volunteer Orientation
Before working in any of our stores, you will need to complete our 1.5 hour Volunteer Orientation at our Downtown Facility which you will be given 3 hours of volunteer credit (accommodating for travel time to and from Downtown San Diego). Choose one date below and attend an Orientation, while we are waiting for the background to clear. Email us at the email address below and let us know which date works best for you.
We hold a Volunteer Orientation EVERY TUESDAY, unless otherwise noted here at our Downtown Facility.
Click here to DOWNLOAD a 1-pageVolunteer Orientation InfoSheet including Map and Dates.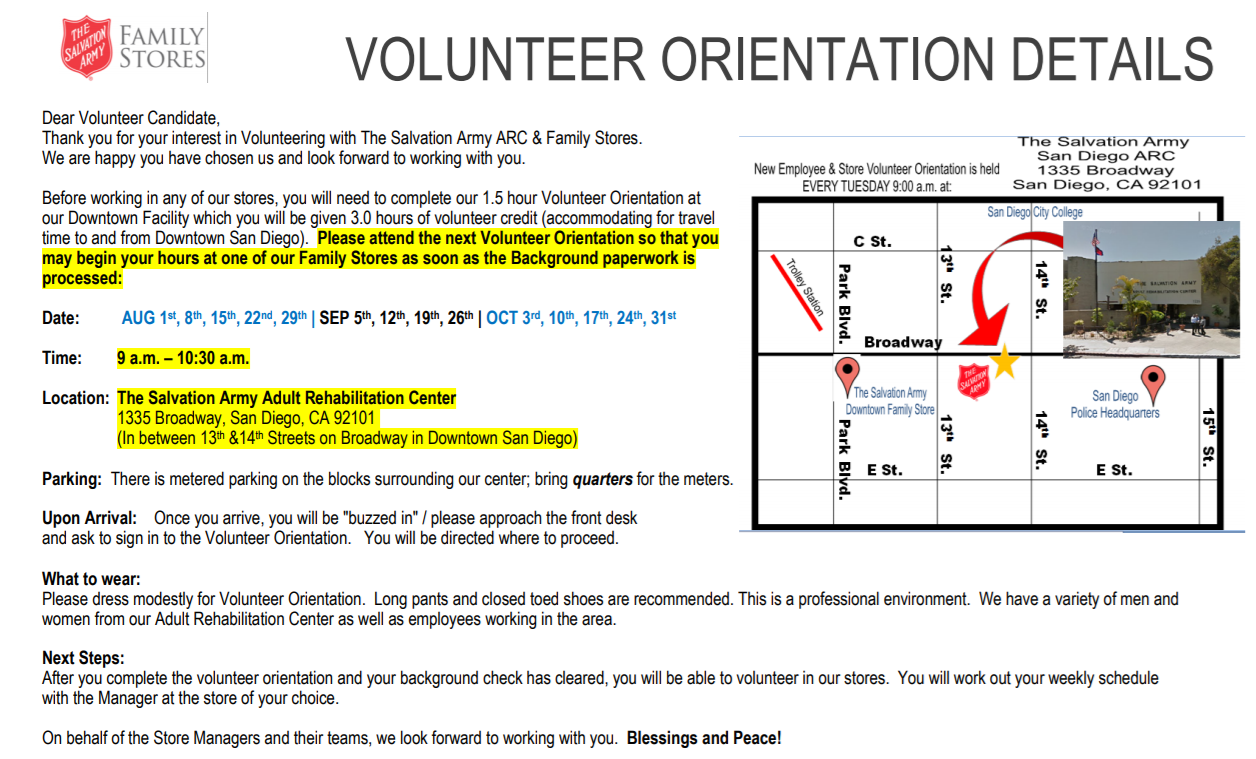 Day / Time: EVERY TUESDAY | 9:00 a.m. - 10:30 a.m.
Location: The Salvation Army Adult Rehabilitation Center
1335 Broadway, San Diego, CA 92101
(the building is in between 13th & 14th Streets on Broadway in Downtown)
PLEASE FIND PARKING ON THE STREETS and bring quarters for the meters.
3. After you have attended orientation and have cleared the background check, you'll be able to go to the store.
You'll receive a call (and or email if you gave that to us) to proceed:
Go to the store and arrange your hours with the manager or asst. manager. (it is best you just go to the store in person do do this rather than by phone)

You can begin your volunteering that same day.

You will be assigned to the store that you circled on the bottom of your Liability Release form. If you forgot which store that is or want to change it, please let me know.

If needed, a Completion Letter will be prepared for you once you are done with your hours.
---
COMMUNITY RELATIONS CONTACT:
For more information regarding Store Volunteer Opportunities, please contact our Community Relations Dept:
Email: SanDiego.ARC@usw.salvationarmy.org
Phone: (619) 239-4037 ext. 315
FAX: (619) 239-4749
Thanks for your interest. We look forward to working with you!
Majors Brian and Iva West, San Diego ARC Administrators
---
WAREHOUSE VOLUNTEERS
We understand, that sometimes, you need to do immediate hours for community service. Please read below and be sure to click on the Warehouse Volunteer Flyer and Dress code links below for complete details.
ALL WAREHOUSE VOLUNTEERS MUST:
• Be at least 18 years of age
• Complete required paperwork on 1st day
• Comply with Dress Code and all other Standards set forth by Supervisor
PLEASE DOWNLOAD THE WAREHOUSE VOLUNTEE FLYER HERE
To Volunteer in our Warehouse:
• No background check is needed
• No prior arrangement, just show up at 7am
​• ADDRESS IS: 1335 Broadway, San Diego, CA 92101 (Warehouse is located on 13th Street)
• Hours available in the warehouse are Monday - Friday, 7:00 am - 3:30 pm
• Men work out on the dock area and in the yard
• Women work upstairs in the sorting area

Warehouse Dress Code (please read before you come to the warehouse)